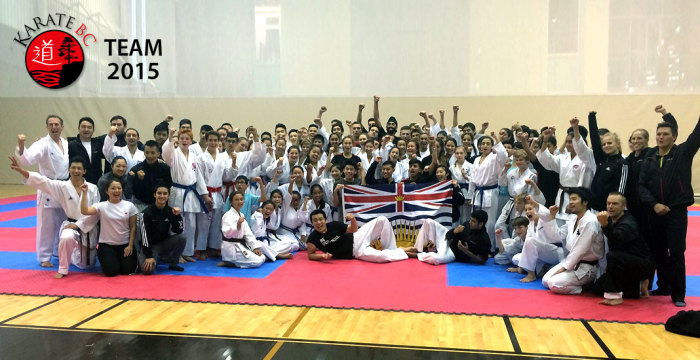 Come join the BC Team so you too can compete with the best of the best at Nationals, which can then lead to being part of Team Canada at elite international championships including the Pan-Americans, the Worlds and maybe even the Tokyo 2020 Summer Olympic Games!
The Karate BC Team is the official team that represents the Province of British Columbia. The primary event the team attends is the Karate Canada National Championships, held annually in a different city by Karate Canada (KC) in conjunction with the governing karate association of the host province. The Nationals are the initial selection point for Team Canada's Junior & Senior teams that compete in Pan-American Karate Federation (PKF) and World Karate Federation (WKF) international events.
In August 2016, the International Olympic Committee (IOC) will announce if it accepts Japan's request to include the WKF's karate bid to become an official sport in the Tokyo 2020 Summer Olympics. The WKF's bid is for both kata (forms) and kumite (fighting).
The BC Team has a long and proud history of sending provincial athletes to the Nationals for over 35 years and it has produced many national champions. The Team is divided into Youth (12-13), Cadets (14-15), Juniors (16-17), Under 21 (18-20), and Seniors (18-40, 16-40 for kata).
Please click HERE to read the BC Team Handbook for more details.
---
Schedule 2016-2017
Click on any particular event listed to see details on the event including schedule, and/or click on the event location for a map where you can get directions if you need them.
Any local tournament which is Karate BC sanctioned is recommended  for further athletic development. Check out our EVENTS page for complete tournament schedules.
---
The following key documents are listed in the BC Team HandBook. Download them now by clicking on the document name below: