Coquitlam Shotokan Karate Club and Kazoku Kai Canada Present Sensei Derek Ridgway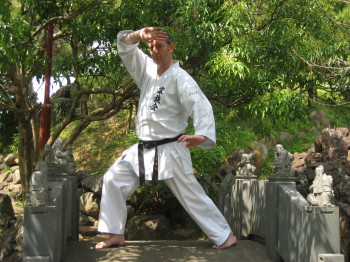 Derek Ridgway Sensei, 8th Dan will be visiting the Vancouver area from May 17th – May 31st 2017. This will be his 19th visit and as always he is in demand.
Ridgway Sensei is known for his creative approach to Katate Bunkai (application) which he can apply to most styles.
Ridgway Sensei started his training in the early 1970's originally at a Shotokan dojo at his school. Before long the club folded and Ridgway Sensei had to look elsewhere for instruction. This was when he started to train in Wado-ryu at a club in Wolverhampton in the midlands of England. Ridgway Sensei continued his Wado-Ryu training under Sensei such as Peter Spanton, Roy Partridge, Toru Takamizawa, K. Sakagami, and M. Shiomitsu. He also trained with the late Steve Cattle who was the England and UK Kata and Kumite champion as well as one of Ridgway Sensei's closest friends.
Ridgway Sensei continued his Wado training (which he still practices) but he was always looking and searching for something. That was when he met his Shito-Ryu sensei Shihan Keiji Tomiyama who is a master of both the Shito and Goju schools. Over the last 30 years Derek has included more and more of sensei Tomiyama's karate into his training program. In June 2007 Ridgway Sensei passed his 7th Dan and in 2011 passed his 7th Dan in Okinawa with Master Isamu Arakaki 10th Dan in Shorin-Ryu.
He now teaches either Wado or Shito-Ryu or Shorin-ryu to an ever growing amount of students worldwide, with members throughout Europe, the U.S.A. Canada, India, Brazil, Venezuela and the Gulf States. In December 2016 Derek was awarded his 8th Dan for services to Karate-Do worldwide.
For further information about the seminars and locations please see the Karate BC Events Calendar on their website or contact Mike Scales 604-945-9877 or emscales@telus.net